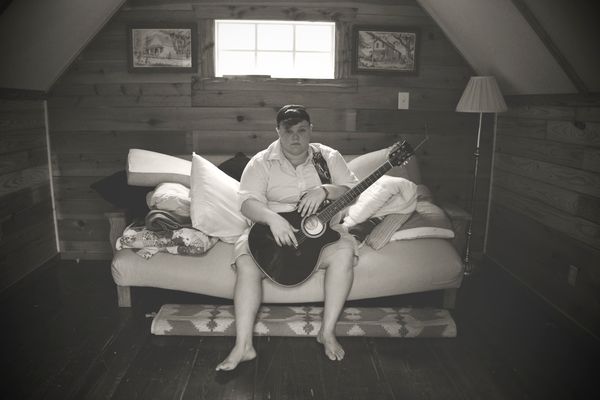 Some people choose their careers and some people have their careers chosen for them.  Laci Wright is one of the latter, with never a doubt in what she would be doing the rest of her life.  
This soulful songstress born in Mobile, raised in Jackson, Alabama, brings more than a fresh voice to the Americana scene. The girl can jam on a guitar and write some of the most heart-wrenching songs you'll hear, all at the ripe old age of twenty-six.  
Entertaining is in her blood, she recalls her first memory of performing on top of a Pizza Hut table at two years of age singing M.C. Hammer's Can't Touch This.  Given her pedigree, it's no surprise the girl's got talent.  Her grandfather, Tommy Atwood, was inducted into the Alabama Gospel Music Hall of Fame and her mother, Schontelle Wright (who sang as a trio along with her sister Latrecia Chancey and Atwood) brought Laci along to church and gospel events throughout her childhood.  The influence has been ingrained in Laci's core; however, it wasn't until her father bought her a Queen tribute album did Laci find her ultimate direction.  
Whatever touring or lack thereof Laci has done in her eight years of performing, her dedication to her craft has kept her at the level she is now, able to be placed in any room with any musician and hold her own.  Performing throughout the Southeast, Laci Wright is ready to explore the rest of the United States supporting her debut album, to be released October 2015 on Baldwin County Public Records.  Recorded at Admiral Bean Studio with Anthony Crawford, this collection of songs is a longtime dream and accomplishment for Laci.  Her powerful delivery is one to be reckoned with, putting every ounce of emotion into her songs with hints of Etta James, Aretha Franklin, and Melissa Etheridge creeping from within.  All of which comes natural since she rarely listens to radio or new music to ensure her authenticity.
With a love for life, family, and her pets (a Great Dane named Vivie and a rotten Siamese cat, Kristophe) Laci Wright can truly say she is blessed even though she, like most young singer-songwriters, leads a hand to mouth existence.  She has no time for complaining and always looks at the positives of any given situation.  It's these qualities in her that make her  special and bound for success.  Baldwin County Public Records thought so too when they signed her this year to their newly formed independent record label.  She is now looking herself straight in the eyes and seeing a debut album, website, video, and tour all happening in the very near future.  Her dream of having ears to hear her songs so that they too can find meaning in life's journey is coming to a reality and what could be more rewarding than that?
Check back for release dates, tour schedule, and news at www.laciwrightmusic.com, www.facebook.com/LaciWrightMusic and/or www.bcpr.rocks.