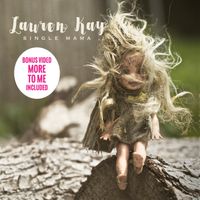 Almost exactly one year from her debut release, Lauren Kay announces her sophmore album, Single Mama, will drop on January 8, 2016.
Lauren Kay's releases sophomore album Single Mama 
Official Release Date: January 8, 2016 
Produced, mixed, and recorded by Anthony Crawford 
Released by Baldwin County Public Records 
2016 starts off with a sweet surprise from Lauren Kay, releasing her sophmore album, Single Mama, on Jan 8 by her new record label, Baldwin County Public Records.  Much like the debut album, Single Mama is personal and intimate.  Lauren's vocals seem almost touchable as they tell of innermost secrets and experiences.   Producer, Anthony Crawford, puts his handprint on the songs and dives deep into the groove on songs like Big Guns, Single Mama, and More to Me with pedal steel, piano, and electric guitar although it's the stripped down sensitivity of Untouched Letter that could choke you up if not give you a complete meltdown.  If all this goodness wasn't enough, this album will include the official video for More to Me as well as an insert with all song lyrics and new photos.